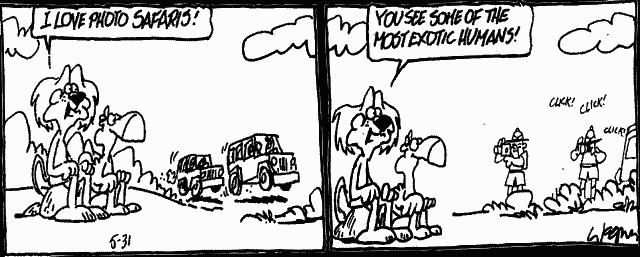 Before leaving us, allow me to offer you the photograph on the opposite (resolution of 1024×768), that you can put on your desk. For that, click on this one and you will see the image being displayed on your screen. Then, click on the right button of your mouse and choose the command " Set as Wallpaper ". Regularly, I will offer a new photograph for you.

See you soon !
Cat Specialist Group HomePage - The Cat Specialist Group is an international panel of over 170 scientists, wildlife managers and other specialists from 40 countries. This site provides a description of all the 36 diffrerent species of Wild Cats.
Big Cats On-line - Big Cats Online offers both a general and more detailed introduction to the various species of cat living in the wild today. It not only covers the Big Cats - Leopard, Lion, Tiger, Jaguar, Cheetah and Puma, but also introduces all of the lesser known Wild Cat species.
The Cat House - The Feline Conservation Center (FCC), also known as the Cat House, is located in Rosamond, California. These web pages contain general information about the FCC and photos and sounds of our cats.
Wild About Cats - Wild About Cats is dedicated to providing responsible homes for captive-bred wild felines, and promoting preservation of habitat for their wild-born cousins; with a strong emphasis on the philosophy that education is the key that will produce results for both.
Mainely Felids - Mainely Felids is dedicated to promoting responsible private captive husbandry of wild felines.
Exotic Felines: Big and Small

- You will find on this website educational information and numerous photos that Susan PORTER have taken of Exotic Felines ranging from the small

Margay

to the largest of all, the

Siberian Tiger

.
WildLife on Easy Street, Inc

- WildLife on Easy Street, Inc., is a non profit Corporation, dedicated to the care of over 200 unwanted, abandoned and abused animals. They are a wildlife sanctuary that is home to 148 large exotic cats, including 22 species of wild cat.
Amur leopard conservation by ALTA

- The ALTA Amur Leopard Conservation website provides information about the Amur leopard and about leopard conservation projects implemented by the Amur Leopard and Tiger Alliance (ALTA). ALTA has decided to dedicate this website to the Amur leopard because it receives, in general, much less attention than its famous cousin, the Amur tiger!.


Le Monde des Chats - Le Monde des Chats is a marvellous site to be discovered. It offers more than 50 races of cats. Descriptions are short, but constitute an interesting introduction. A small photograph accompanies each description.
Le Chat - Le Chat is another site house which makes honour with the cats. The goal of the designer is to present a new race every month. Beautiful presentation and interesting information.
Support the wild cats of the world and add this ribbon and link to your site!